About the Journal
Economics and Business Review (earlier as the Poznan University of Economics Review) has been published by Poznań University of Economics and Business Press since 2001. Its subject range embraces articles on economics and finance. The journal is open for contributions from economists and finance specialists both from Poland and abroad. The EBR provides a platform for academicians all over the world to share, discuss and integrate state-of-the-art Economics and Finance thinking with a special focus on new market economies.
The EBR invites to submit the original and unpublished articles. The journal is published in English only, with frequency four issues yearly. Texts are double-blind reviewed by independent specialists from Polish and foreign academic centres.
EBR is an open access journal. To submit, process and publish an article in Economics and Business Review authors are not required to pay any charge.
Economics and Business Review is abstracted and indexed by
Scopus, Emerging Sources Citation Index (ESCI),
European Refrence Index for the Humanities and the Social Sciences (ERIH+)
Sciendo, Directory of Open Access Journals (DOAJ),
EBSCO, Central & Eastern European Academic Source (CEEAS),
Research Papers in Economics (RePEc),
ProQuest, Central and Eastern European Online Library (CEEOL),
BazEkon, Central European Journal Of Social Sciences And Humanities (CEJSH),
The Economics and Business Review journal received a grant within the Development of Scientific Journals programme of the Minister of Education and Science of Poland. Years 2022-2024, contract no. RCN/SP/0242/2021/1, financing 73 200 PLN. The project aims to maintain and improve editorial standards, increase the reach and impact of the journal, and modernize the journal website.
Current Issue
Vol. 9 No. 3 (2023)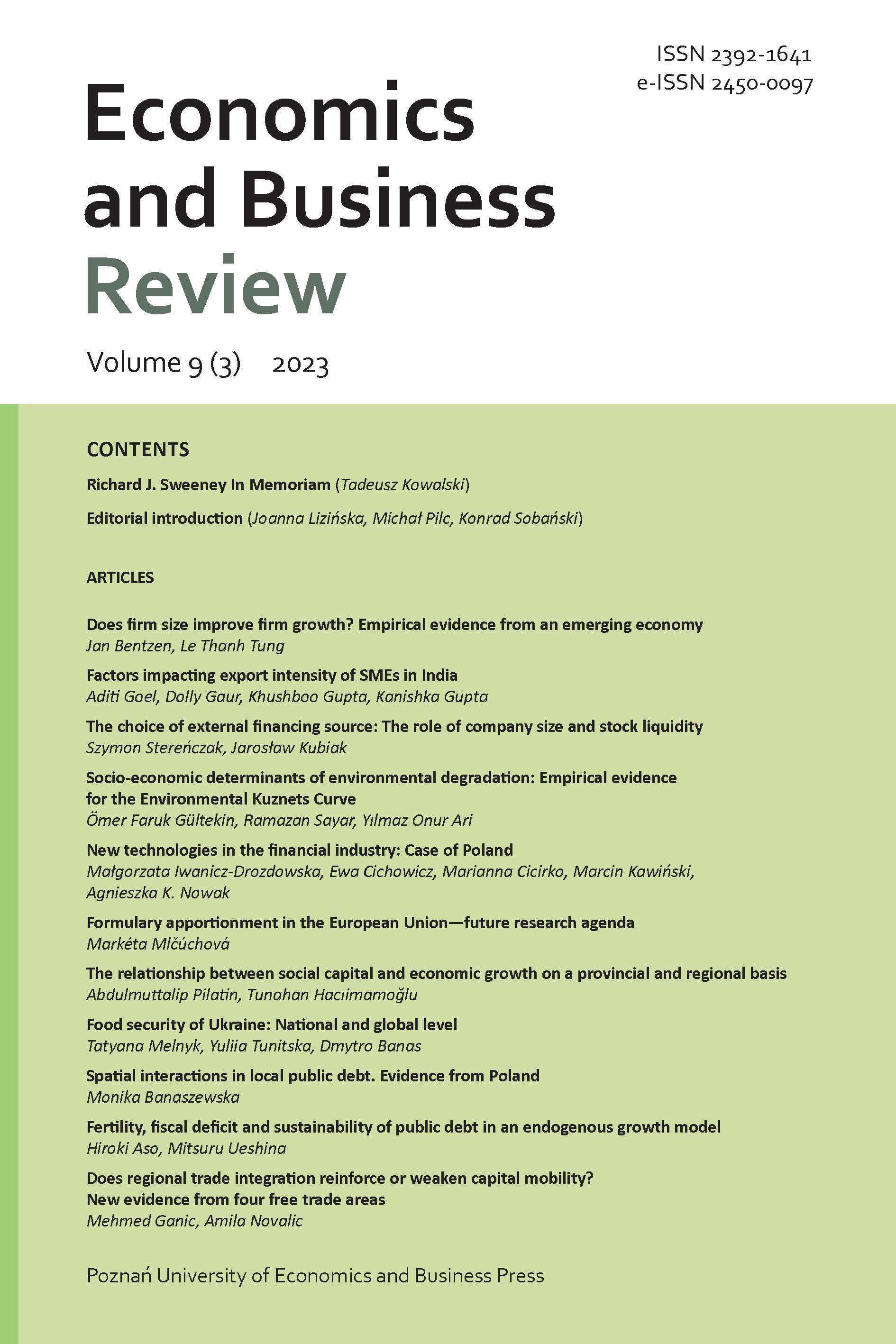 This issue of Economics and Business Review answers the new set of challenges that the economic world faces nowadays. The authors of eleven papers have enriched the existing literature by sharing the results of their studies in three areas. First, the key elements of company growth and value are studied. The variety of development paths of entrepreneurship makes this area especially complex considering the sudden changes in the business environment over the last years. The second group of articles deals with quite new factors that give rise to new threats which are appearing but which also create enormous opportunities for economic decision makers. These are environmental issues, new technologies, integration between countries and social capital. The third research set addresses the current dilemmas of public authorities. The papers support answers to the questions about food security, local public debt, sustainability of public debt and the consequences of economic integration. (Joanna Lizińska, Michał Pilc, Konrad Sobański)
Full Issue
View All Issues