The impact of environmental, social and corporate governance responsibility on the cost of short- and long-term debt
Keywords:
CSR, ESG, sustainability, cost of debt, short-term debt, long-term debt
Abstract
The aim of the paper is to examine the impact of environmental, social and corporate governance (ESG) responsibility on the short- and long-term cost of debt. Linear regression was applied to a unique dataset on CSR and cost of debt for 300 companies recognized in 2017 by Corporate Knights as the most sustainable companies in the world. The question about the link between CSR and cost of debt is important as there is still ongoing debate as to whether business should undertake activities in the field of CSR—managers and other stakeholders are still unsure of the outcomes. The findings show that the involvement in environmental issues decreases the cost of long-term debt whereas the involvement in social issues brings benefits to short- and long-term debt. Surprisingly the greater the involvement in corporate governance, the higher the cost of debt in all time horizons. Managers should expect a lower cost of debt from environmental and social activities mostly in the long run. Corporate governance expenditures may in turn be seen as a waste of company resources, cost of forgone opportunities, or—optionally—as an over-investment. The main novelty is the breakdown of CSR into three dimensions while examining various term structures of corporate debt.
Downloads
Download data is not yet available.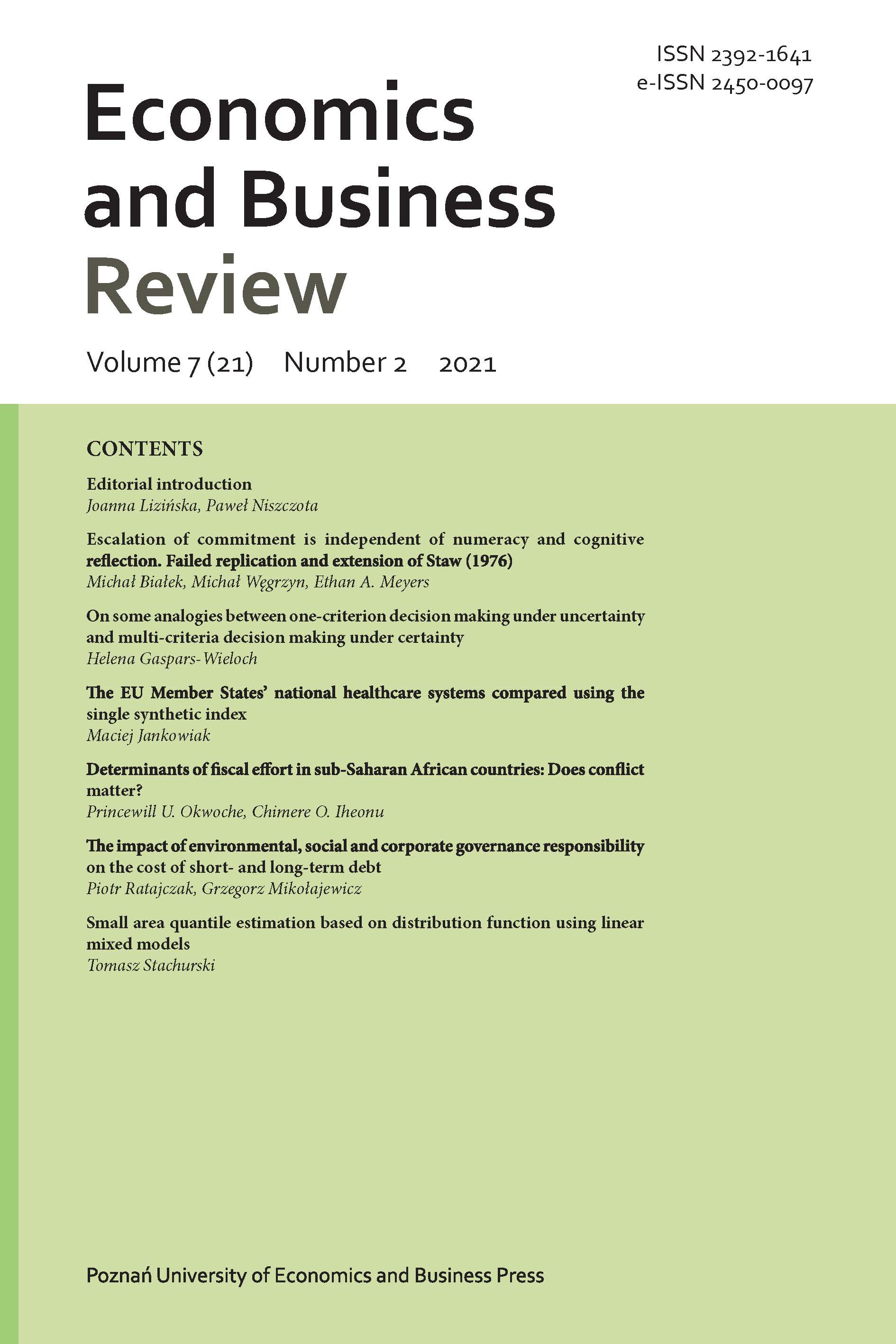 Downloads
How to Cite
Ratajczak, Piotr, and Grzegorz Mikołajewicz. 2021. "The Impact of Environmental, Social and Corporate Governance Responsibility on the Cost of Short- and Long-Term Debt". Economics and Business Review 7 (2):74-96. https://doi.org/10.18559/ebr.2021.2.6.
License
Copyright (c) 2021 Poznań University of Economics and Business
This work is licensed under a Creative Commons Attribution 4.0 International License.