Determinants of under-representation of women on Boards of Directors: an exploratory study of African public and private firms
Keywords:
Board of Directors, presence of women, leadership, socio-cultural factors, developing countries
Abstract
The underlying causes for the low representation of women on board directorships has been the subject of considerable research when viewed in the context of North American, European and Asian economies and markets. In Africa, very few studies exist that examine this reality even if the socio-economic situation increasingly requires it. Indeed, women are a pillar of the social and economic life of African countries, as they  constitute the equilibrium point of family stability and contributors to various essential economic activities alongside men in their community and country. This central role of African woman in all civic endeavours stands in stark contradiction to their general absence on the Board of Directors of most African companies. Although a recent ADB study indicates that the percentage of African women on boards is higher than on some other continents' nonetheless, the fact remains that this low representation is astonishing. This research aims to understand the cause and effect relationship and to identify the determinants of this low representation of women as sitting board members. It is based on semi-structured interviews with women who are voting members on existing Boards of Directors of large firms in the public and private sectors. It shows that the low representation of women in boardrooms is explained more by socio-cultural factors rather than any organizational flaws or personal issues with these women.
Downloads
Download data is not yet available.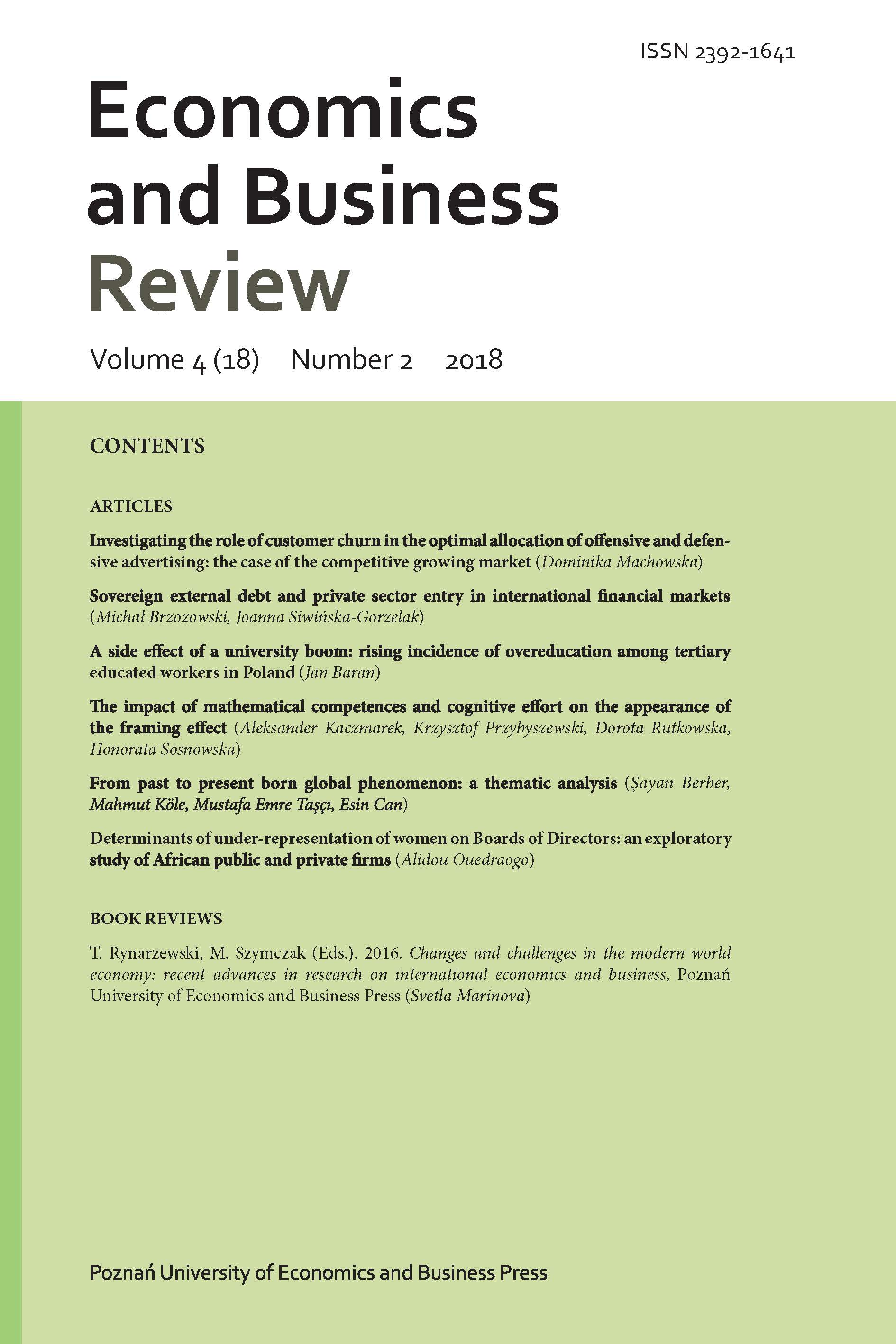 Downloads
How to Cite
Ouedraogo, Alidou. 2018. "Determinants of under-Representation of Women on Boards of Directors: An Exploratory Study of African Public and Private Firms". Economics and Business Review 4 (2):98-113. https://doi.org/10.18559/ebr.2018.2.6.
License
Copyright (c) 2018 Poznań University of Economics and Business
This work is licensed under a Creative Commons Attribution 4.0 International License.