Virtual reality in marketing communication – the impact on the message, technology and offer perception – empirical study
Keywords:
virtual reality, VR, technology, marketing communication, advertising, virtualization
Abstract
VR technology is an emerging IT innovation that greatly affects consumer behaviour and consumer perception of products. The aim of this study is to examine how the virtual reality phenomenon can be used as a marketing communication tool and how its usage affects the reception of individual components of a marketing message. The research conducted examined the possible impact of virtual reality on message perception and attitude towards particular offers. Additionally the authors wanted to find out whether there was a relationship between the use of virtual reality and the acceptance of new technologies in marketing communication. To verify the stated hypotheses empirical research was conducted involving an experiment with 150 observations of respondents taking advantage of three different marketing communication tools including: VR presentation with Oculus Rift hardware, video and printed advertisements. The results obtained reveal that VR technology positively and significantly impacts the reception of the offer, the technology involved and the presentation itself.  
Downloads
Download data is not yet available.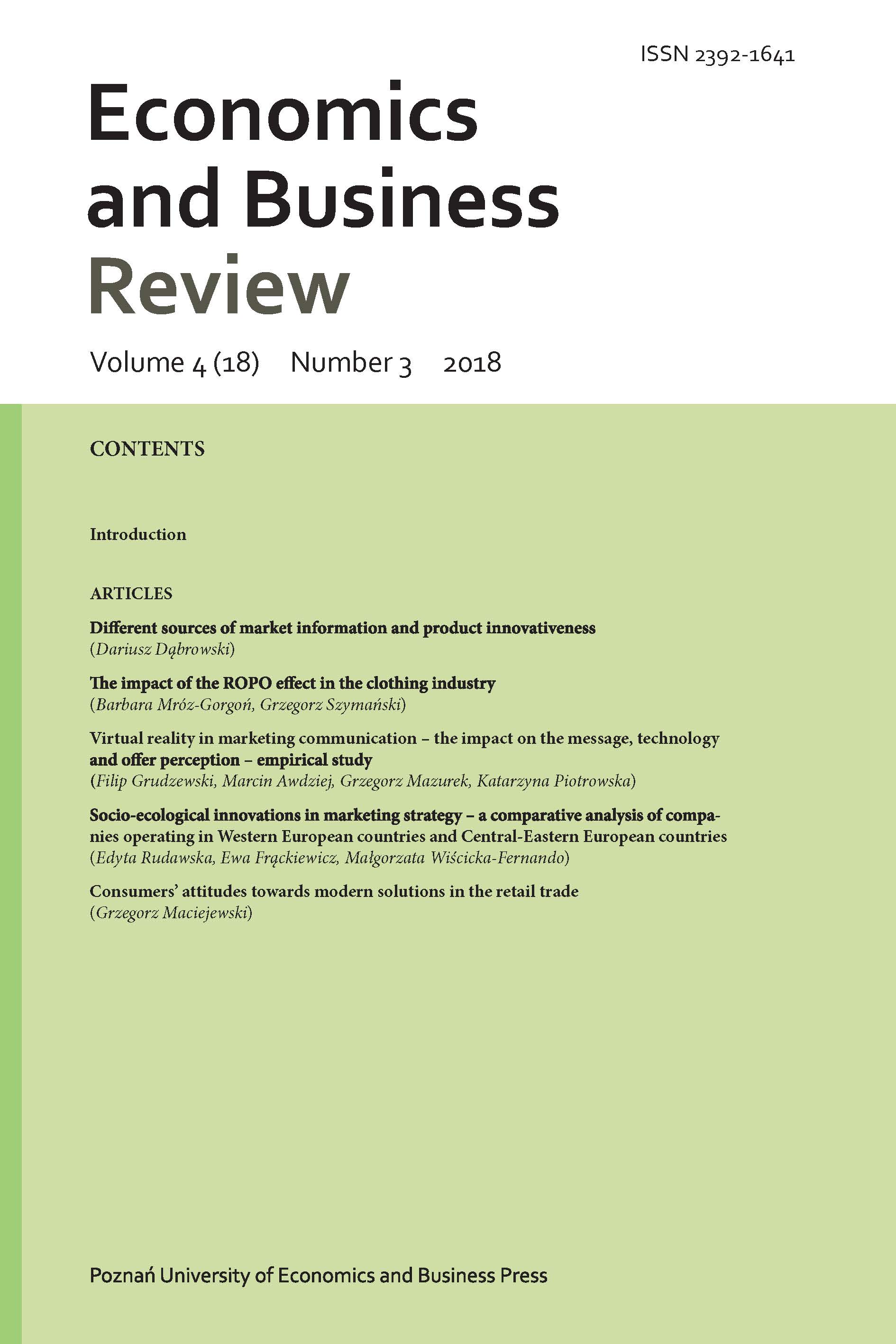 Downloads
How to Cite
Grudzewski, Filip, Marcin Awdziej, Grzegorz Mazurek, and Katarzyna Piotrowska. 2018. "Virtual Reality in Marketing Communication – the Impact on the Message, Technology and Offer Perception – Empirical Study". Economics and Business Review 4 (3):36-50. https://doi.org/10.18559/ebr.2018.3.4.
License
Copyright (c) 2018 Poznań University of Economics and Business
This work is licensed under a Creative Commons Attribution 4.0 International License.