Best practice in bank corporate governance: The case of Islamic Banks
Keywords:
corporate governance, Islamic banking, stewardship theory
Abstract
Islamic banks are growing rapidly with annual growth rates of 17.6% between 2009 to 2013 and 19.7% from 2014 to date. This level of growth is projected to continue into the future. Islamic banks now operate in more than 75 countries with a value of approximately $920 trillion of bank assets. Islamic banks are increasingly being seen as good long-term value propositions and are serving both Muslim and non-Muslim customers across international markets. Despite the rapid growth in Islamic finance, the underpinning corporate governance rules and regulations are at an embryonic stage of development with little attention having been paid to them. The purpose of this paper is to help fill that gap by exploring a conceptual model of corporate governance for Islamic banks based on both Islamic finance principles while fused with elements of corporate governance standards from Western theories and codes, primarily the UK, and thereby ensure that good governance is in place in Islamic banks. The paper links the predominant corporate governance theories of Principal/Agent, Stakeholder and Stewardship with practice based corporate governance codes and explores the potential of applying stewardship theory to Islamic banks. Islamic principles emphasis is on real assets rather than debt as is the case in Western Banks and as a consequence this paper offers the conclusion that the more prudent approach to banking used by Islamic banks could be used as a model for Western banks and thereby deliver a more sustainable future and maintain confidence in banks and substitute for the need for taxpayer support, such as the guaranteed deposit scheme, which acts as a backstop under the Western approach.
Downloads
Download data is not yet available.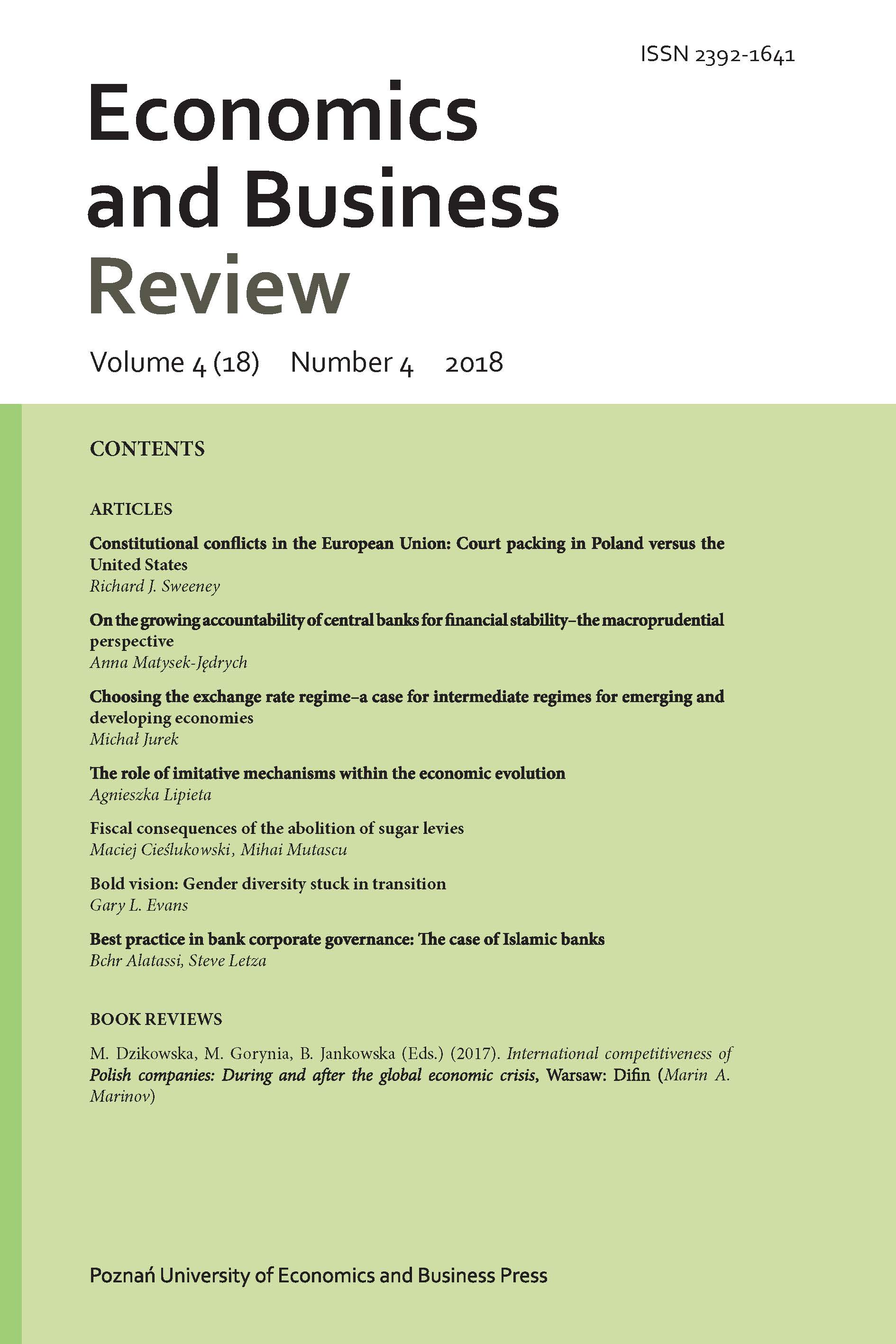 Downloads
How to Cite
Alatassi, Bchr, and Steve Letza. 2018. "Best Practice in Bank Corporate Governance: The Case of Islamic Banks". Economics and Business Review 4 (4):115-33. https://doi.org/10.18559/ebr.2018.4.7.
License
Copyright (c) 2018 Poznań University of Economics and Business
This work is licensed under a Creative Commons Attribution 4.0 International License.